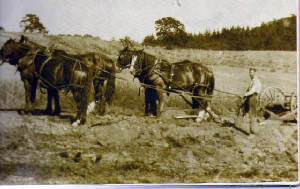 Mother complained that father "stole" the straps from her steamer trunk to mend the horses' harness! (The trunks were never used again anyway!)
My English parents knew very little about farming. And mother came from a sheltered life in Moreton, Dorset. She had to learn to wash with hard water, bake bread, keep chickens, turkeys and goats, and travel three miles to the nearest neighbor, and to town for supplies. Dad had to deal with livestock, and mended the harness with straps from mother's steamer trunks, much to her disgust. Sister Mamie arrived next, in June 1915, but after five years of crops being ruined by early frosts, hailstorms and plagues of grasshoppers they moved to the city- Winnipeg- and dad joined the army as World War One was raging. He was slated for overseas, so mother wangled a permit and headed for England, with young Mamie, and Roy in arms. But, father's draft was cancelled and he didn't proceed, so mother visited her family there, returning to Winnipeg in 1919.
George Parrett in Army Service Corps 1917
Concentrated at Valcartier for overseas
Dad was concentrated at Valcatier, Quebec, on draft for overseas. Although the government had decreed "no more dependents to proceed overseas", my mother got a premit from her MP, and headed "home" with me, a babe in arms, and sister Mamie a toddler of two- four days on the train and 17 on the ship,in hostile waters! But, faher's draft didn't proceed, so mother visited her family, in England, until returning on a dependents ship in 1919.

Here is the photo from mother's World War One passport with her, Mamie and Roy.




Mother Mabel, baby Roy and sister Mamie
This photo from mother's passport of 1918
Other military happenings listed here: