Like most pioneers, father knew nothing about farming. But, with the promise of "free land" he headed for Canada in 1908. A relative had preceeded him to Winnipeg, so he proceeded to Manitoba, worked around on farms "to get experience," and bought his near Pilot Mound,
Learning to handle a team in southern Manitoba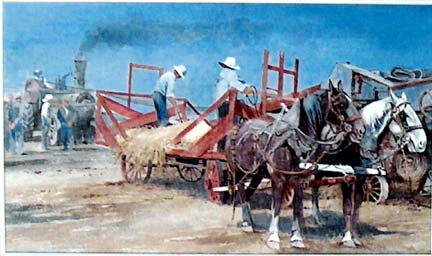 And a sore back at the end of theday!
A four-horsepower plow on the farm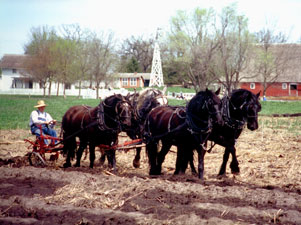 They were clever horses fortunatly
He sent for my mother-to-be, in 1912-Mabel Purchase, who he had known briefly, being a clerk at her parent's shop, bakery and post office at Moreton, Dorset. Mother landed in St John, NB, took the train to Winnipeg, arriving on April 4th, obtained a "special" permit from the bishop, on arrival, and were married. Then they took the train to Wood Bay, near their new farm, arriving in a blizzard! They were met by a neighbor in a buckboard (mother expected a coach-and-four from a "landowner.") They set out across the snow-covered fields- no roads then. Mother expected "the Manor house" over every rise, only to find "a shack on the prairie!"
Mable Purchase in England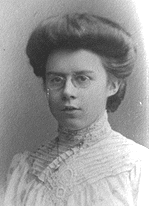 The finery soon discarded on the Prairie farm!
With no running water, electricity or telephone, mother- from a sheltered existance in England- had to "make do"- soap was made from lye and ashes, rain water collected for washing- done by hand with a scrub board. "At home we had a girl to do the washing," she said. Here are mother, Mabel,(right),and sister-in-law Elsie Louise Parrett, another English bride, busy on the Pilot Mound farm. Later the rain barrel, when empty, blew away "for miles and miles", in a wind storm.
Mother and another English bride doing the washing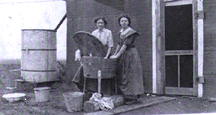 The rain barrel soon blew away "for miles and miles."
When my parents, George and Mabel Parrett were expecting their first child in 1913, mother stayed with her Manning neighbors as they had a telephone. But when Doctor Speechley came from town for the event, in a winter storm, he was thrown from the cutter twice, into a snowbank, and arrived too late for the appearence of George Junior, boen January 27th, 1914. Here are the proud parents, with George Jr. when spring arrived.
George and Mable Parrett with firstborn, George Jr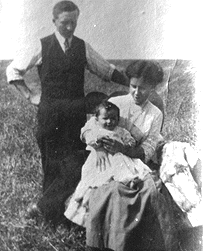 Perched in a stook on the Pilot Mound farm.
MORE PRAIRIE HOMESTEADING- CLICK
Other military happenings listed here: