The Purchase family, Moreton, Dorset, in Nov. 1910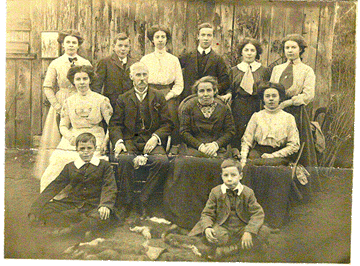 George Purchase and Hester (Walden) seared centre.
The Purchase family, probably posing outside the Moreton shop in November 1910. Standing are Louise, Algernon, Annie, George, Alice and Florence. Seated- Helen, grandfather George and grandmother Hester,my mother Mabel; and in front- Jesse and Henry.
The ten children were raised in small rooms above and behind the shop- the village grocery, bakery and telegraph office. The children learned to read the waving telegraph needle to send and receive messages, and to handle post office routines.
The Moreton home in recent years, little changed.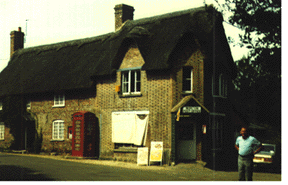 That's cousin John Purchase posing in front!
Alg Purchase, now from Winnipeg, in WW1 uniform.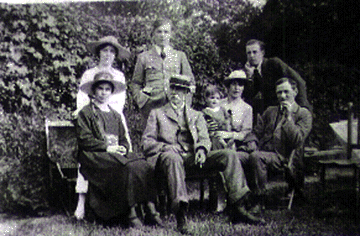 Alg served in the Royal Navy Flying Service
Alg Purchase came to my parents' farm at Pilot Mound, Manitoba, about 1915, worked on other farms and put himself through Manitoba Agriculture College, joined the University Battalion, WW1, served in France, then volunteered for the Royal Navy's new Flying Service, flying blimps patrolling the coasts for enemy submarines. Here he is in uniform, visiting his family in 1918.
Here are some of the ten, as adults- in 1918- when uncle Alg Purchase- then a Canadian, from Winnipeg, was serving in the RNFS, flying airships. In front- Louise, grandfather George Purchase, Alice and Phil Wadge with young Ken. Standing are Hester, Alg and Jess,