I'm Roy Parrett in Victoria, British Columbia, Canada. I'm 84 and keep busy on e-mail to friends and relatives, and I have a Family Website at <http://www3.telus.net/rparrett>

and a family tree going back to 1730.



I was born in Winnipeg, went to school in Brandon, joined the local Reserve artillery battery at 16, went to summer camps at Shilo, and served in the artillery in Canada, England and Europe during WW11. The army sent me to Victoria in 1942, I liked it, so returned here in 1946.
My wife Maude (Kirton) and I had five children, Vern and Maureen in Victoria, Glen in Prince George, Barbara Phipps in Calgary and Ken in Ontario. Maude pre-deceased me in 1974. For most of my life I was an active airplane pilot and radio amateur- VE7TG, and a world traveller- operating my radio from most countries in Europe, in Asia and the South Pacific.
Roy Parrett at home station VE7TG

Some years ago- newer equipment today!
Wife Maude and I flew our Piper plane to the Bahamas Islands, and later son Ken and I retraced the trip. Recently, I took the airline to Miami, and rented a Cessna Skymaster, and flew again to the Bahamas and other Islands. I flew advertising banners with my planes, and took aerial photographs of most new shopping centre openings and a few marine disasters. For nine years I sponsored the amateur radio activity at Lester Pearson College- a college for International students- and visited many overseas, when they graduated
Students from Lester Pearson College radio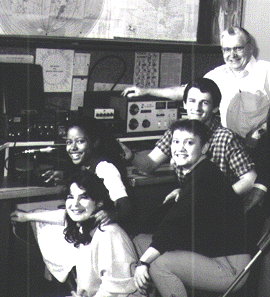 International students talking worldwide
Vancouver 1943

Maude and Roy Parrett, Vancouver (rear couple)

Favorites

My interests are recycling bicycles, which are free to students at local universities and colleges- mostly International ones. And talking by e-mail and MESSENGER to cousins and friends overseas. And upgrading computers, producing family webpages and a family tree.

Here's a list of some of my favorite music:

Tchaikovsky, Strauss, Rossini, Bizet.