Soon Will and Elsie got their own farm at Khedive, Sask., but tragedy struck, a daughter, Elsie Elizabeth, born December 1914, died at 15 months, but a son, Kenneth, was born in 1916.His father Will Parrett died on the farm in 1917. Elsie, left alone on the farm, married a neighbor, Fred Vogeli, and adopted a daughter, "Dot" who later went by "Miki." Ken was fatally injured in a logging mill accident in 1937.
My father George Parrett and his English bride farmed for five years at Pilot Mound, plagued by early frosts, rust infestation, and hungry grassghoppers. Finally in 1917 they had what looked by a bumper cropp, with fields of ripe waving grain. But a black cloud appeared on the horizon- hail clouds appeared and beat the crop to the ground. The war was on, so dad joined the army, was concentrated at Valcartier, Quebec for overseas. Mother headed for England with my sister Mabel, a toddler, and me an infant in arms- four days on the train and 17 days on the ship! But, as the war was winding down, dad did not proceed, so mother stayed with her English family until gaining a berth on a "Bride Ship" for soldier's dependents in 1919, for a return to Canada.
Here is a closeup of baby George in 1914.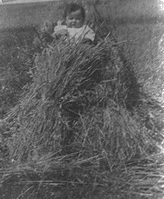 He was tragically lost in the 'flu epidemic of 1917
George and Mabel Parrett later in Brandon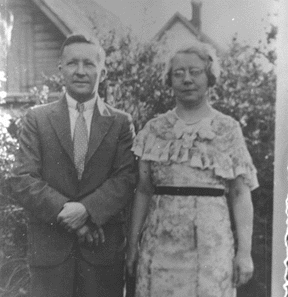 They ran PARRETT'S GROCERY on sixth street.
Settling on a farm- CLICK HERE
Other military happenings listed here: