Here are the British Columbia Parretts, gathered in Vancouver, about 1970, for mother's 80th birthday with hosts Stan and Peggy Parrett. Peggy is standing, left, with daughter Pat. Barb and father, Roy, Stan and his sons George and Bob. Seated are Maude, Roy's wife, Granny Mabel Parrett, and her daughter- also Mabel Parrett.
The B.C. Parretts about 1970.
Granny Parrett's 80th Birthday!
Maude and Roy Parrett with teenagers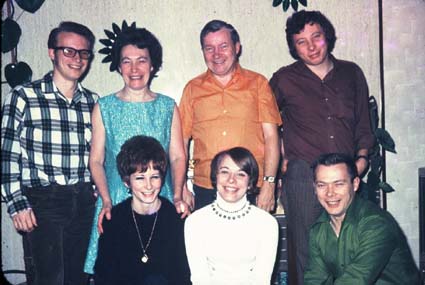 This photo taken in the family living room in Victoria
The photo above, taken about 1968, shows- standing, son Glen, Maude and Roy Parrett, son Ken. Seated are Maureen, Barbra and Vern.