This is one of our 25-pounder guns in action (the shell weighs 25 pounds) and it is sent on its way by propellent bags of cordite, either 1, 2 or 3 bags- each a different color (red, white and blue, of course!) depending on the range to the target. They should be to the same standard, but in wartime it came from different factories, and often from different countries. They werent always to a standard!
One of our guns, and its ammunition,on the move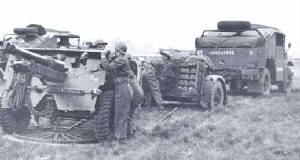 Shells and propellent travel with the gun
In action, the guns may fire hundreds of rounds, so additional ammunition is brought up, for their use, often from "mixed" lots- adding to the chance for errors.
While training in England, we came under "hostile fire" in an unexpected way. A pub in Seaford, Sussex, near the School of Artillery, displayed two World War One guns, near the door. On New Year's Eve, someone packed one with cordite and touched it off at midnight. It demolished the gun and the front of the pub, but "time" had been called, so there were no casualties. (Lord Haw Haw often remarked on the German Radio that the British had more to fear from Canadians, than the Germans!)
While in action, in Germany, I almost became a midwife! We were in farming country, near Oldenburg, the telephones were out, and a woman was in labour. The husband came to our command post, asking for "an officer." It appears that he thought "officers can do anything." Everyone looked expectantly at me, to my dismay. Fortunatly, our cook was also a farmer, who had attended many barnyard births, so he volunteered. And it turned out to be twins!
Other military happenings listed here: