My student Shelsing has just received her driving licence, December, and has a new car- a Chevrolet Corsica, and your editor, Roy, a new car also- a Ford Taurus LX, neither of us has found out what all of the buttons do -
so look out other drivers!
This Christmas, Shelsing will visit her father in Vancouver- the new car on the ferry? And your editor with daughter Maureen at son Vern and Alice's here in Victoria. HAPPY HOLIDAYS EVERYBODY!
English cousins Linda and Richard Hydes from Salisbury were in Victoria and British Columbia, this September.

Richard took many pictures with his fine digital camera, so look for photos soon!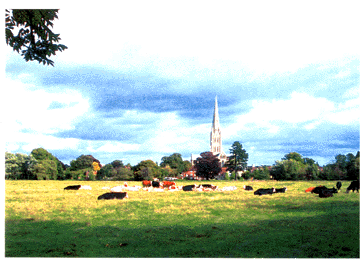 This is Salisbury with the famous cathedral
This is the Salisbury area,with it's famous cathedral prominent. My dad lived at Bishopstone, Wiltshire, nearby.

This was a Christmas Card sent by radio amateur friend, John Shergold.