Lester Pearson College, in Victoria, British Columbia is one of the United World Colleges, founed by the late Lord Louis Montbatten, to promeote international understanding.

Early, the Victoria Kiwanis Club sponsored a powerful amateur radio station, VE7LPC, at the college, to coach students for amateur licences, and for the to talk to their home coutries as often fathers, uncles and other relatives were already on the air at home.
Pearson College Radio VE7LPC
International students woth sponsor Roy Parrett (white shirt).
Here are the first students to chose the radio activity- (L to R)- Marcella Ibarra Garcia, Columbia; Juliette Warren, Bahamas; Ximena Van Gelder, Ecuador; Markp Perkovic, Peru; Roy Parrett, VE7TG, sponsor; Bert King, VE7FBK and Al Wilson, VE7AXW. (Three od them obtained their amateur certificates.)
Pearson College has Interntional Students from around the world, on scholarship for two years. They are about 17 years old on entry and far from home. In 1979 the Kiwanis Club of Victoria sponsored a powerful anateur radio staion,
licenced to Roy Parrett, VE7TG, on behalf of the college, to link the students with their home countries, and to talk to relatives, as a surprising number of fathers and uncles were already on the air as radio amateurs.

Nina PeJnoviv from Peru, was a moving spirit in th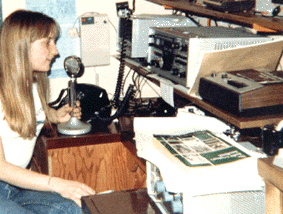 Nina soon got Canadian and Peruvian licences.
Although Nina was busy with other college activities, she provided the spark in the club's first days. Her father, a radio amateur on a tuna boat in the Carribean, encoureged Nina, who soon got licences in Canada, and in Peru.
Three international radio operators
Nina, Peru; Harya, Indonesia and Zac from Kenya.