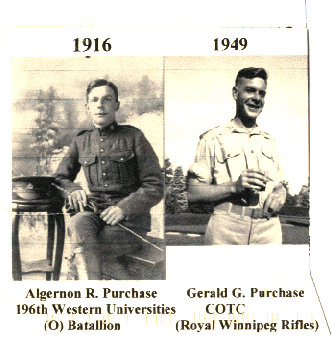 Alg Purchase, with son Gerald
My uncle, Alg Purchase, came from Moreton, Dorset to my parents, George and Mable Parrett. in PilotMound, Manitoba,in 1915, when he was 15, helped out on father's farm, and "worked around" on other farms at $10 a month and "all found", saved the money to attend Maitoba Agricultural College, obtaing a degree in Animal Husbandry. He joined the Western Universities Overseas Batallion in 1916, served in France, and transferred to the Royal Naval Air Service,
flying blimps in anti-submarine patrol off the Britishj Coast,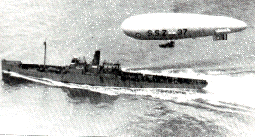 A Blimp on towing exercise with warship.
Two more generations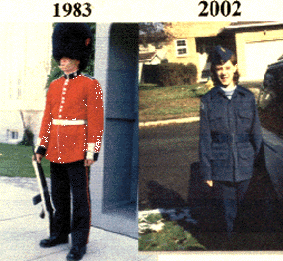 Gerry's son Alan, and grandaughter Sydney
Son Gerald served with the Royal Winnipeg Rifles in 1949 and maintains links with that unit today, from his home in Ottawa. And here is Gerry's son, Alan, on guard with the Governor General's Foot Guards on in 1983. And a fourth generaton, Alan's daughter, Sydney in more recent years, following the family tradition.
Gerry Purchase, wife Lois and extended family are in Ottawa, Ont. He would like to hear from you- CLICK below:
More about this military family later.