The 15th was mobilized from three Prairie NPAM (Reserve) Batteries- the 17th of Winnipeg; the 95th from Calgary and the 110th, Broadview, Sask. early in World War 11. Not to be confused with the 15th Field Regiment (Reserve) of Vancouver.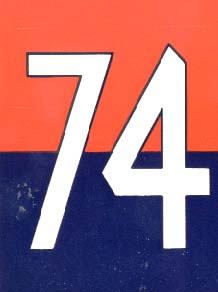 The Tactical Sign identifying 15th Regiment vehicles.
These pages in unofficial ones by Roy Parrett of Victoria, B.C. The excellent, 300 page Regimental History, by Capt. R.A. Spencer, with photos and maps in in most local libraries.
More about 15th Field Regt RCA Overseas: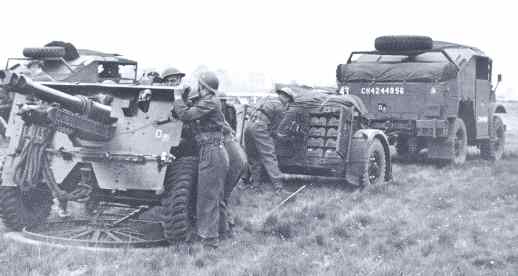 Here is a 25-Pounder limbered up ready to move.


In action- D Troop, 110th Battery-Kusten Kanal in Germany- The Engineers put the Bailey Bridge up three times, Gerry knocked it down three times. The RCE brought up a new bridge kit at night, and said, "No engineers available- you'll have to assemble and erect it yourselves".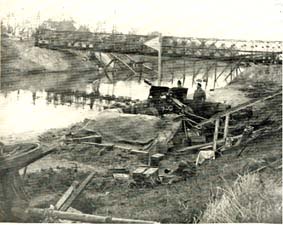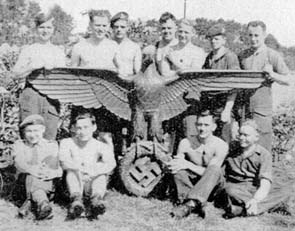 Lieut Roy Parrett and D- Troop gunners with captured trophy in Germany.
Scout car in Belgium
This Humber Scout Car- made by White- could go as fast backward as forward, the driver using a periscope in reverse, and firing two smoke candles if required!