I'm Jack Kanhoffen, in Victoria, British Columbia, and I invite you to join my Website abuilding:
The Empress Hotel in Downtown Victoria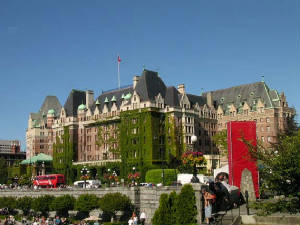 You can arrive from Seattle and walk to the Empress!
Victoria Harbour in the sunshine!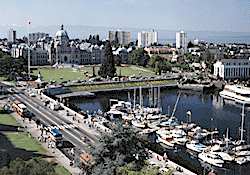 Ferries and planes arrive here from Mainland points.
Victoria is one of the few cities where you can take a ferry from Seattle, Washington, for instance, and walk off to your downtown hotel. And Beaconhill Park, the British Columbia Museum, Thunderbird Park- with original Native crafts- and the Tourist Information Office, are also within walking distance.

Here you'll learn all about me: my interests and hobbies, here in Victoria, British Columbia- the people in my family, my pets, and more. I will even included a list of my favorite links to other sites.

On this home page, I'll introduce myself and talk about my reasons for wanting a web site. I have put a picture of myself on this page...of me operating my ham radio set in Victoria wiith call letters VE7TTP. This weekend- January 21st, with Roy Parrett, VE7TG, I operated from the University of Victoria ice arena, for the Pacific Cup tournament, providing communications, with other radio amateurs for 200 teams from Canada and United States in nine local arenas.

What's New?

Here I might add an entry whenever I make an update to my web site. Where appropriate, I'll include a link to the change.

Roberta and I having tea with friends.


This is a popular tea house near Baystreet Bridge

And here is our good friend Zhixia Xu- who we call Iris. She is a Visiting Scholar at the University of Victoria, with a Phd in Applied Sciences, so it should actually be Doctor Iris!