Alg and Mable visited Wimborne from Winnipeg in June 1962 for a family get together.
Below are Mables' sister, Jess, Dennis Slocock, Mable Purchase, Alg, Annie, Henry, Ethel, Angus, George and Floss Wheelton.
A historic photo on the lawn at Wimborne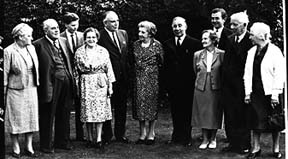 Eleven family members taken by John and Shirley.
Angus and Janet entertaing in 1985.
Cousins Roy Parrett and Kathleen Pike honored guests
Cousin Roy Parrett arrived from Canada, and Kathleen Pike from Cyprus for the reception, hosted by Angus and Janet at their home near Blandford, Dorset- Janet and Shirly busy with the refreshments.