Victoria is the capital of British Columbia, located on the southern tip of Vancouver Island, served ny fast ferries to the British Columbia Mainland, and to Washington State.
This is the first sight of Victoria I had, when I arrived here in the Army, from Shilo, Manitoba in December 1942- very much snowbound there, but sunny and warm here. I was convinced right then!
The nearby Harbour Area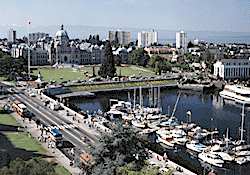 From near here, ferries leave for Port Angeles, WA.
When I arived back from overseas in 1946, the army, fortunatly, posted me to Little Mountain, Vancouver- now Queen Elizabeth Park. How lucky can I get? So, I took the ferry to Victoria, bought a house- all in one day- and settled here after discharge.