There are many stories of good planning and heroic deeds, but sometimes it wasn't quite like that. During World War II, I was serving with 15th Field Regiment of artillery, in the Fourth Armoured Division, in Germany. I received a note written on part of a cigarette package, "report to map reference xxxxxx, 1000 hours." No hint of who was there, who I should report to, or what I was to do. It was often like that. On arrival I discovered a Brigade Headquarters, but whose? Certainly not ours. I wandered about until I saw an artillery tactical sign, and peeked in the door. Many signalmen were busy on the radio and telephone and nobody paid any attention to thislost soul. A full colonel appeared and said, "Oh, the replacement- keep your finger on the junior and senior nets, and keep on top of things at all times." And he vanished. One of the operators fortunatly recognized me from training in Canada, and advised that I was at 10th Infantry Brigade Headquarters, and that the artillery rep had worked four straight days and needed some rest. And I was it! Soon fire orders from infantry started arriving, for my approval,and scale allotment- the number of rounds per gun. While I paused over them, my friendly signaller prompted me with, "He would probably order Scale 5. "SCALE FIVE" I bravely ordered. After a while I got the hang of it. During the first night, five of our scout cars pinned down a German Tiger tank and they blazed away, and called for our artillery help. But the tank got away, the scout car commanders earning medals. After four days my relief showed up, and, being "experienced" I gave him detailed orders- mostly gleaned from my friendly signalman.

YOUR EDITOR WITH A 15TH FIELD REGT SCOUT CAR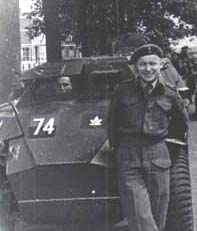 THIS HUMBER CAR CAN GO FAST FORWARD OR BACKWARD
Roy and Mamie Parrett in London, 1944
Mamie was an army nurse overseas
All three of the Brandon Parretts were in the army overseas, Stan in Italy with the 1st Field Regiment, RCHA,
Nursing Sister Mamie at Canadian Army hospitals at Horsham and Marsden Green, in England, Horsham quite near bother Roy at the School of Artillery at Seaford,Sussex. Hence, we met in London (under the clock at Waterloo Station of course)and visited Westminster Abbey, Saint Paul's Cathedral, The Horseguards Parade for the Trooping of the Colours, and the other attractions. One day Mamie and a fellow- sister, resplendent in new walking-out uniforms,came to visit me in Southern England. There was an air raid and the Warden made them lie down in a ditch. So they arrived with mud all over their new uniforms. War is hell, even for nurses!